OUR 6th ANNUAL COMMUNITY ENGAGEMENT FORUM
CANES Community Care (CANES) would like to thank all those who attended this year's Annual Community Engagement Forum.  This event was held at the Embassy Grand Convention Centre in Brampton. This Annual Forum engaged our clients, client's Family members, partners and funders to openly discuss the services and programs that are offered by CANES.
Additionally, this session allowed each participant to share their ideas of what services they like, and what services they would like to see improved in their community.  This year's theme focused on Personal Health Management.  There was a workshop in the morning followed by a luncheon.  The workshop asked a series of questions regarding clients and their use of technology in the involvement in their own care plan. The session was run by Jerry Mings of the Desk Consulting Group Inc. Furthermore we highlighted the valued input from last years forum, and show what we've accomplished to date.
Jerry will be putting together a report based on the results of our session.  The report will examine how CANES will use the information gathered on that day, moving forward with our 2016/17 Strategic Plan
CANES Management has identified the need for an Employee Recognition Program.  It is felt that the implementation of this program will both motivate and validate our workforce in their efforts to provide excellent support services to our clients.  The following Awards were presented within this year's Employee Recognition Program: 
CANES would like to express great gratitude to those who were recognized at this year's Community Engagement Forum in part of our Care Crusader Awards Program.  Each Award was presented by our Director of HR Carol Baran and our new Board Chair Chirasthi Mendis 
The Dorothy Fuller Award
Sandy Simmons, PSW
The Care Crusader Award
Alyssia Mootoo, Scheduler
Belinda Posca, Coordinator, Caregiver Support and Counseling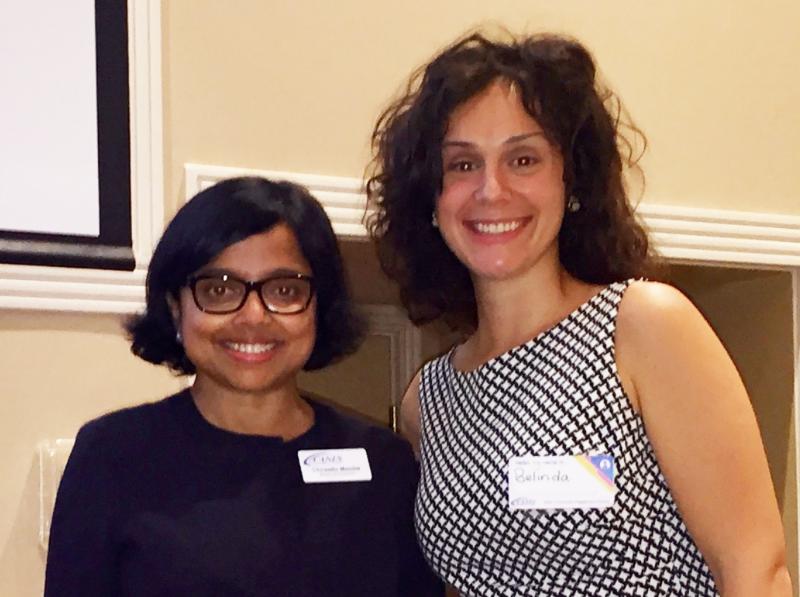 Linda Tribble, PSW
These Awards recognize the extraordinary efforts of an individual who consistently exemplifies the core values of CANES Community Care
Please see below, some of the pictures that were taken on the day of the event.
Below, you can also find a link to our Annual Report complete with the same Personal Health Management theme as this year's Forum.
Special thanks to all who participated, we hope to see you all there again next year!  
All Transportation for the event was organized by our very own Seniors Ride Connect Transportation Team
CANES' Seniors Ride Connect transportation program also announced a New Partnership with TransHelp and the Region of Peel in an effort to serve more clients with rides to medical appointments.
A total of 150 people participated in the forum, including Clients, Client's Family, Partners and Stakeholders 
One of CANES' Clients named Shirley Suraj very courageously spoke to everyone at the forum about her wonderful experiences with CANES' Services.  Everyone was very impressed with her speech and her kind words were well received at the Forum.