A Grandmother Reliving a time when the World was at War.
Looking Back.
A few years ago, I wrote an article about my 92 year old Grandma and her experiences contributing to the war effort by working for Victory Aircraft Ltd. in Malton, Ontario as a riveter on the Famous Lancaster Bomber.  
(You can read that article here)
In the early years of WW2, the British and their Allies made plans to build as many aircraft as possible.  To do this, Britain needed to choose a manufacturing site well away from Nazi fire.  They settled on Malton, just outside of Etobicoke, near Toronto Canada.
Once the site was set, they needed to start building. It only took 16 months to get from the first blueprint to the first test flight and a work force escalated from 3,300 in 1942 to 9,521 in 1944.  Most of the workers were unskilled and about a quarter of them were women.  Among them was my Grandma.  The first Canadian prototype of the Lancaster Bomber rolled off Malton's Victory Aircraft assembly line on August 1, 1943.
These massive bombers were known by many different names:  "Fortresses in the Sky," "The Dam Busters" or most commonly, "The Lanc",  and played a huge part in the war. They bombed enemy airfields, destroyed dams and carried the largest payload of bombs of any WW2 bomber.
My Grandma at the time started off as a riveter, ensuring that the panels on the plane were secure.  She later moved up as a quality control expert supervising all the other riveters' work. 
Fast Forward
After seeing some 30 other planes, we finally gathered under the towering Lancaster with my Grandma as the guest of honour. The staff was impressed by her memory as she recalled stories about how difficult it was to maneuver the heavy riveting gun around the bomber's heavy armored panels. One 30-year-old staff member was especially interested in her riveting stories because he currently is a part of the museum's restoration team and works as the Lancaster's riveter. He was eager to show one of the last surviving riveters of WW2 the riveting gun he uses. After being handed the gun, my Grandma said: "It's not that heavy."  It truly was but just wasn't as heavy as the ones used in the 40s.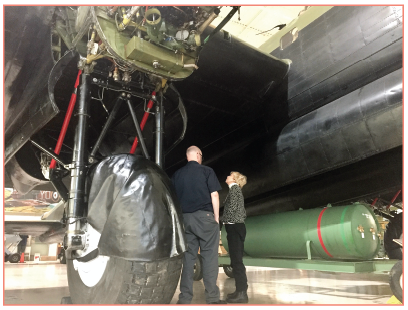 The man then proceeded to give her a private tour around the massive plane.  As I looked on, I saw this beast of a machine dwarf my Grandma standing underneath it.  I imagined her crawling on the gigantic wings with a 15 pound riveting gun. My Grandma was a real-life Rosie the Riveter and she had the great responsibility of ensuring that every single rivet was secure on this very plane so that it could do its job of dropping its destructive payload on heavy dams and wreaking havoc on the enemy.
Many young men fought and died as heroes, but there are many other men and women that stood out behind the scenes and redefined what it meant to be a hero. I feel that my Grandma stood out as one of those heroes, especially to the people who saw her gazing up at that plane that day at the museum.
I'm sure revisiting that plane after so many years brought back many memories for my Grandma and I'm convinced that those memories, whether good or bad, have shaped the wonderful woman she is today. 
This November, be sure to remember those who fought but also those who helped in any way they could.   I'd like to thank the Canadian Warplane Heritage Museum in Hamilton for taking the time to escort my Grandma and her family around the hanger that day and taking care of restoring an incredible piece of history. Each time I hear a Lancaster Bomber roar through the sky I think of heroes, specifically one among them, my Grandma. 
Written by: Joel Duncan, Director of Marketing and Community Relations, CANES Community Care.